If you have problems with the connections on your phone, you'll need to know the PIN and IMEI number to restore the settings and configurations on your phone.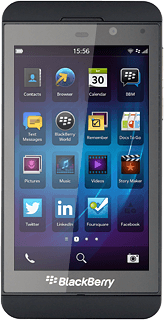 Find "Hardware"
Slide your finger down the display starting from the top edge of your phone.
Press
Settings
.
Check PIN and IMEI number
PIN
and
IMEI
are displayed.
Exit
Slide your finger up the display starting from the bottom edge of your phone to return to standby mode.